VDN26
Suber
Nero d'avola • Frappato • Alicante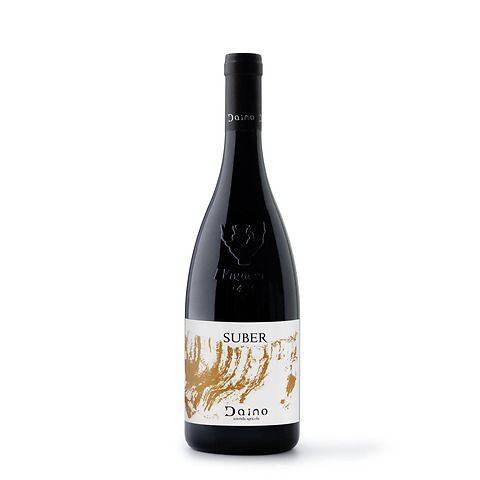 Cultivation of three sicilian indigenous grape varieties - Nero d'Avola, Frappato, Alicante - has given rise to Suber, a wine with an intense red colour and distinctive, complex, highly aromatic taste. Combination of the three varieties gives the wine body and character. The contribution of the Nero d'Avola is an aroma of red fruits, such as blackberries or mulberries; the Frappato adds an aftertaste of yellow peach; the Alicante gives Suber alcoholic strength and enriches it with a hint of fragrant spices.
Vinification
The wine is the fruit of meticulous research in the vine and wine sector combined with traditional vine cultivation techniques. The vines are bush-trained, as in the past, and tended using ancient tools and enduring care. In the silence of the woodlands, work in the vineyards is marked by the sounds of secateurs during pruning, and the farmer's hoe and the clop of Gino the mule's hooves during ploughing. In order to protect nature and the surrounding woodlands, the vines are cultivated in accordance with organic farming standards and are tended by hand. The particular composition of the vineyard's terrain, consisting of deep red, sandy Mediterranean soil overlying sandy arenaceous rock, combined with a dry, windy climate, give the grapes their characteristic harmonious intensity and complexity of taste.
Each grapevine produces just enough grapes for a single bottle of wine, and bush-training not only ensures a quality product but also creates a natural harmony between the vineyard and the surrounding landscape. After a natural vinification process, without recourse to processes of clarification and filtration, Suber is aged for 12 months in 225 and 500 litre barrels and is then bottled around 15 months after harvest and aged in the bottle for at least 6 months.
Suber goes extremely well with red meat and cheese; it makes an interesting accompaniment to chocolate.
Specifications
WINE

IGT (Typical Geographic Indication) - Sicily

GRAPE VARIETIES

50% Nero d'Avola, 30% Alicante and 20% Nero Capitano (Frappato)

PRODUCTION AREA

Caltagirone (Catania) Italy

ALTITUDE

325 metres a.s.l.

TYPE OF SOIL

Mediterranean red sands

TYPE OF CULTIVATION

bush-trained

PLANT DENSITY

9,000 vines per hectare

AGE OF VINEYARD

15 years

CLIMATE

Mediterranean with hot, dry, windy summers and a good diurnal temperature variation.

RIPENING AND HARVESTING

September, manual harvesting

VINIFICATION METHOD

maceration and destemming (around 80%), pressing

MACERATION

14 days in stainless steel fermentation tanks

AGING (type of barrels)

in 225 and 500 litre used and semi-used barrels for around 18 months

BOTTLING

around 15 months after harvest with at least 6 months aging in the bottle.

QUANTITY PRODUCED (in bottles)

13.000 75 cl bottles
100 150cl Magnum bottles

COLOUR

purplish ruby red with violet tones

AROMA

dried red fruit, etherish, intense

TASTE

full, fruity, well-balanced, persistent taste

ALCOHOL CONTENT

13,5%

TEMPERATURE OF SERVICE

18 - 20 °C

SERVING TEMPERATURE

An excellent accompaniment to red meats and cheeses.

STORING

Lay the bottle down in a cool room with a stable temperature not in excess of 18° C